Access Storage - North Bay
88-95 Gibson St, North Bay, ON
1ST 4 WEEKS FREE *
Photos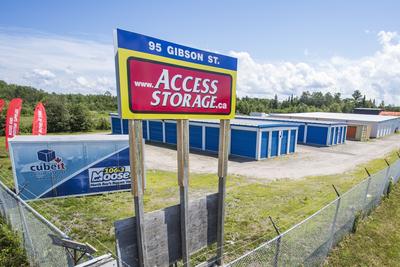 Hours
Office Hours

| | |
| --- | --- |
| Mon-Fri | 8:30am to 4:30pm |
Access Hours

| | |
| --- | --- |
| Daily | 24 hours |
About Access Storage - North Bay
We are Canada's  #1 storage company and have the metal to back it up, winning numerous service awards such as the Consumers Choice Award for the best storage company. No matter what your storage needs or how long you will be renting, Access is the perfect storage solution. 

Most of our facilities offer 1st 4 WEEKS FREE or FREE MOVE IN VAN. Call now for details!
* 1st 4 weeks free - subject to availability
Features
Climate Control
Free Moving Truck
Drive-up Access
24/7 Security Monitoring
24 Hour Access
Parcel Delivery Acceptance
Drive-in Loading Bay
Packing Supplies
Dollies & Carts Available
Payment Options
Vehicle Storage
Hours
Office Hours

| | |
| --- | --- |
| Mon-Fri | 8:30am to 4:30pm |
Access Hours

| | |
| --- | --- |
| Daily | 24 hours |
Facility Reviews
---
We were moving up to the area and had no place to store our belongings until the house closed. Lori was very pleasant to deal with on the phone and put our name on a list for a unit. Within a few days we got the call and starting bringing things up to the unit. The facility is clean and secure. We felt confident in leaving our possessions there. I would recommend Access Storage on Gibson to anyone who needs a storage unit. The customer service and secure location provides for a great overall experience.
---
We all suddenly had to move the car out after a long term here with Access Storage (6 full years in our case) as the location in North Bay would be going through the demolition/renovation this month in August. While we are honestly quite disappointed on such short notice from the head office due to currently being on business trips overseas and not being able to physically move it out right away or in time, we truly appreciate the site manager (Shawn) trying to do as much as he could to make it right and personally helping out during the moving out in the last minute on the last working day (7/29). He is very helpful, proactive and responsive.
---
I had rented the unit with Access Storage here on Gibson for quite sometime now and needed to move out due to the renovation. For the whole time, Shawn is very prompt, helpful and accommodating, especially during the move-out process. His going-above-and-beyond actions really helped mitigate the issues. I may come back again after the renovation because of him. Thanks Shawn!
---
I had a storage unit of all of my belongings in a storage unit on 95 Gibson, for a while over a year and I had finally saved up enough money to buy a house. Now that I own my house and I have all of my belongings most of my things were ruined and mouldy, I contacted access storage and they wanted pictures and a worth on the items I had a problem with, I found many more after proceeding to try to claim the insurance I paid for the entire time renting my unit. Since sending access storage hasn't contacted me once, I've sent numerous emails and called plenty of times all with no answer. Claiming they're "under construction so it's hard to answer a phone or email" which sounds ridiculous.. so now I'm left with a house with barely any furniture, my dresser, couch, chair basically anything in that unit was ruined, between water, rodents and insects getting in I don't have anything to live with. And I just keep waiting for a reply to get what I'm owed and it's feeling more and more like it's not going to happen, it's been nearly 2 months… don't go with access storage, you're better if leaving your stuff in a bush.
---
awesome people to work with. would recommend access storage to anyone needing a place that is safe